Relations with San Marino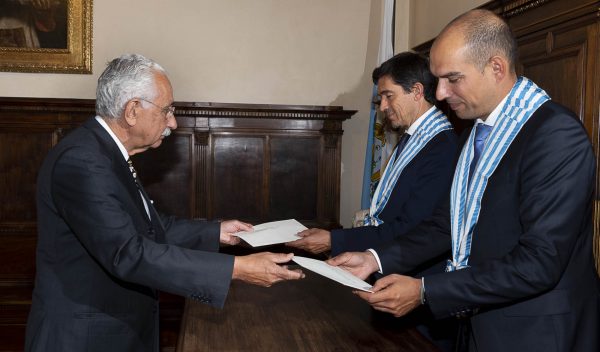 Since the ancient times the Republic of San Marino gave knights to the Order of Malta and its territory fell under the «jurisdiction» of the Grand Priory of Venice.
Recalling to the traditional relations between the Republic of San Marino and the Order when it exercised sovereignty over the Maltese islands, in 1935 the two governments made contacts to start new negotiations in order to officially determine their relations.
These negotiations, in which the Nob. Avv. Filippo Gramatica of Bellagio representend the Republic and Chancellor Baillif Luigi Rangoni Machiavelli acted on behalf of the Order, led to the stipulation of a Concordat signed at the Magistral Palace on June 23rd, 1935.
With this act, not only the High Contracting Parties began official diplomatic relations, but the Republic of San Marino made arrangements for a ward of the Hospital of the Misericordia of San Marino to be dedicated to the Order; and decided to dedicate a chapel to Saint John the Baptist, Protector of the Order of Malta.
The Government of the Republic chose the ancient private oratory of the former Palazzo Valloni, at the beginning of Contrada Omerelli: the chapel was fully restored and a statue of the Blessed Virgin of Loreto was placed.
Grand Master Fra' Ludovico Chigi Albani gathered there in prayer during his state visit on September 2nd, 1935 and here the insignia of the grand cross bailiff are kept together with the magistral bull of conferral to the Most Serene Republic.
Grand masters Fra' Angelo de Mojana (1984), Fra' Andrew Bertie (1996) and Fra' Matthew Festing (2011) also came to San Marino on state visit and attended the Mass in this chapel.
In 2015, a Memorandum Agreement was signed between the Order of Malta and the Republic of San Marino which provides that the activities of training, prevention, intervention and restoration of normal living conditions following natural disasters or particular climatic situations and atmospheric conditions shall be agreed between the Civil Protection Service of the Republic of San Marino and CISOM – the Italian Relief Corps of the Order of Malta.
On September11th, 2019 H.E. Prof. Marcello Celestini presented his credentials as the new Ambassador of the Order of Malta in San Marino.
The Order of Malta is present in San Marino with the Grand Priory of Lombardy and Venice and its Delegation.